---
Lijiang - Twenty Years On
Jim Goodman, veteran researcher and writer on Yunnan and its people, has just republished his 1997 book "Children of the Jade Dragon: the Naxi and Yi of Northwest Yunnan". In its new preface he looks back at the changes the last twenty years have brought.
---
---
C. Patterson Giersch: Asian Borderlands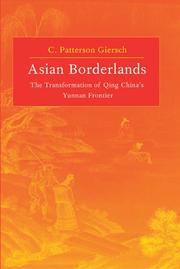 Yunnan was not always China: indeed not so long ago large parts of Yunnan were only nominally part of the empire. To make Yunnan, outside the main Han cities, a Chinese province required significant effort. Here Giersch's study on Yunnan's hinterland makes an interesting if academic read.
---
Yunnan Tours
We can put you in contact with personally vetted, experienced tour guides, speaking Chinese, English, Dutch and German, for southwestern China. They can help you plan a trip matching your personal interests and requirements and accompany you on your trip. We just provide the introduction, we do not charge any commission or fees.
---
Huadeng 花灯 "Flower Lantern" is a kind of local folk opera, combining folk song, dance and dialect, with the topic frequently modern life such as dating. Traditionally Huadeng is performed during Spring Festival, but now relatively rare. Huadeng has been recognized as intangible cultural heritage of Binchuan county. This is a performance of the county Huadeng Troupe, performing "Three Matchmakers" 三个媒人.
---