---
Dancing under the Moonlight: the Costume Festival of Zhizuo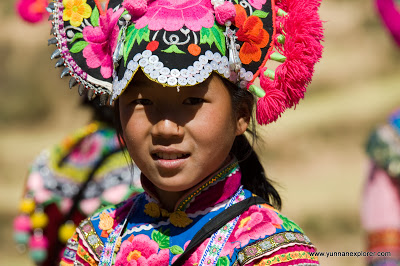 As villages go, Zhizuo could hardly be more remote. Some 70km from the county town, first along a winding mountain road, then on a deeply rutted track without public transport: even in the dry season it takes several hours and a bit of stamina to reach. Yet, at least on the first full moon of the year, the effort is worth it, as Zhizuo holds one of Yunnan's most colourful festivals, the Dress Competition Festival or Caizhuangjie 赛装节.
---
---
Fei Hsiao-Tung and Chang Chih-I: Earthbound China
Fei is the father of modern sociology in China: western-trained, he came to Yunnan at the end of the 1930s when China's eastern universities relocated west. In "Earthbound China" he applied modern empirical techniques that he had pioneered around Shanghai to the Chinese hinterland. The economical development, and subsequent societal changes, of three un-named, but typical villages in Yunnan is analyzed in great detail in this fascinating study.
---
Yunnan Tours
We can put you in contact with personally vetted, experienced tour guides, speaking Chinese, English, Dutch and German, for southwestern China. They can help you plan a trip matching your personal interests and requirements and accompany you on your trip. We just provide the introduction, we do not charge any commission or fees.