---
Protecting Erhai: The Seven Big Activities
When in April 2017 guesthouses and restaurants around western Yunnan's Erhai Lake were suddenly summarily ordered closed until further notice, big character slogans also began proclaiming: "Protecting Erhai: The Seven Big Activities" 保护洱海七大行动. The slogan suggests that the closure of tourist facilities is just one part of a wider campaign to clean up the Erhai environment.
---
---
John Israel: Lianda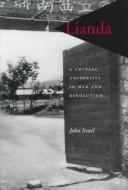 Everyone knows about the Mao's Long March, but a few years later another long march took place: that of Chinese students leaving their cushy campuses on the east coast, trekking all the way to Yunnan where their universities reformed as Lianda, the united university. Kunming, then a total backwater, became a hotbed for new ideas, not just scientific. We liked the section of east coast girls scampering around Mengzi in their latest fashion.
---
Yunnan Tours
We can put you in contact with personally vetted, experienced tour guides, speaking Chinese, English, Dutch and German, for southwestern China. They can help you plan a trip matching your personal interests and requirements and accompany you on your trip. We just provide the introduction, we do not charge any commission or fees.