The most comprehensive Yunnan bibliography on the web: books, articles, maps and online resources.
YunnanExplorer Pick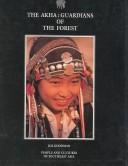 The Akha, in China known as the Aini branch of the Hani people, migrated from China southwards into Laos, Burma and Thailand. In this richly illustrated book J Goodman, aka 'Akha Jim', explains their life and culture.
We are still adding entries, cleaning data, building reading lists. For suggestions, please send an email to librarian@yunnanexplorer.com.