Kunming's new eastern terminal for all the traffic to Wenshan, Honghe, Qujing (Luliang, Shizhong etc). For detailed destinations see http://www.km-ky.com/2010/0208/106.html
Below are images of timetables and maps for this station. Click on any image to enlarge.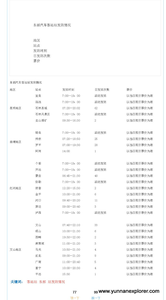 Last update for this entry: May 2010
© 2009-2021: YunnanExplorer.com. Data sourced from OpenStreetMap.